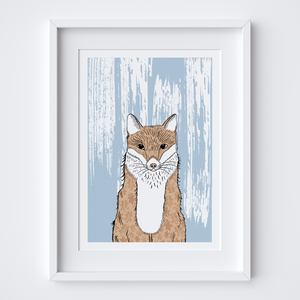 A print of my original illustration of a fox covered in a delicate leaf pattern. I love going on an early morning walk and seeing these bold animals appear from the bushes.  
This stunning print would make a thoughtful gift for a friend who adores foxes or enjoys being out in nature. Perfect for a living room, bedroom or office, this print would add a lovely modern touch to a country home.
The illustration is Giclée printed onto 230gsm archival matt fine art paper and is signed and dated by me. It will arrive wrapped in brightly coloured tissue paper with a cardboard backing, ready to be given as a gift.
Prints are available in A4 and A3 and will fit a standard off the shelf A4 or A3 frame.
A4 prints can also be purchased with a soft white mount measuring 12 x 16". This is a standard US and UK frame size which can easily be bought from high street shops or online.
Product information:
A4 print - 21 x 29.7 cm / 8.3 x 11.7"
A3 print - 29.7 x 42 cm / 11.7 x 16.5"
A4 print with mount - 12 x 16"
Carefully shipped in a hard backed envelope (frame not included)